Creating a Simple Topiary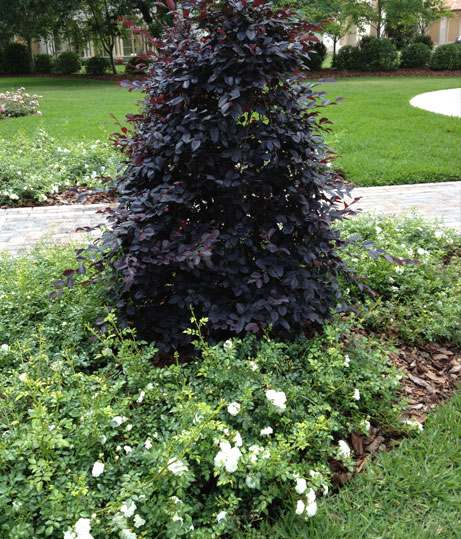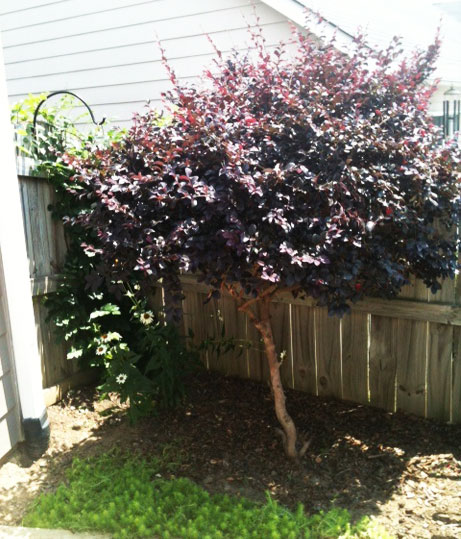 Discover the tricks to creating &
maintaining your own unique plant forms.
It's always fun to experiment with plants. Here is an easy way to turn an Ever Red™ Loropetalum into an eye-catching garden feature. Creating a simple topiary begins with selecting a plant that lends itself to upright growth so it can be trained into a desired shape such as a pyramidal cone or tree form. It's all about looking beyond the natural habit and unleashing its potential for something more.
Ever Red™ Loropetalum is a classic example of a beautiful shrub that can easily be trained into a different shape. With an average height of 6' x 6', it provides the perfect base for experimenting. The burgundy evergreen foliage and dark red fringe flowers can be used in garden settings as well as large containers for sprucing up entryways of the home.
To create an Ever Red™ Loropetalum pyramidal cone, start by selecting a plant that has a strong central branch, or leader. Prune off all other branches originating at the base of the plant and tie a stake to the central leader to support it and keep it growing straight. Continue to allow the central leader to grow and keep any side branches growing out from the central leader pruned to 6' or so. When the central leader reaches the height that you would like your topiary to be, carefully prune the plant into a cone shape using a pair of bypass pruners. Don't worry if there are "holes" or the plant seems thin. Make sure that the plant has plenty of sun and remember to fertilize and water regularly. As the plant continues to put on new growth you will need to continue to prune the plant to maintain the cone shape.
You can also create a tree form Ever Red™ Loropetalum. Follow the instructions above for forming a single central leader but prune off all lateral growth from the central leader up to the height that you would like your "canopy" or "tree" to be. From this point up, prune all branches to the desired length. As the plant continues to grow, you can selectively prune it allowing it to take on a more natural form (our personal preference) or you may prune it into a tighter ball shape if you'd like. Continue to prune all side shoots that develop on the trunk. The trunk will grow thicker and sturdier with time and will eventually be able to support the top growth without the stake.
Although it may take years to develop a topiary or tree form, the result is spectacular as it provides more area for under planting other colorful plant varieties.